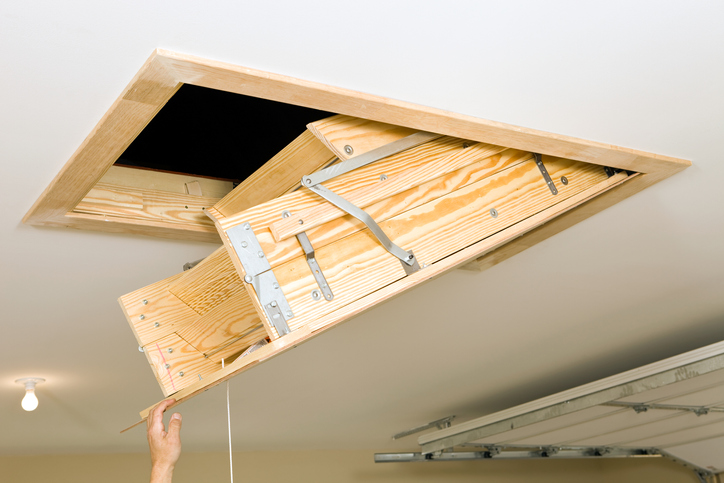 Disappearing attic stairways are rarely a topic of interest, other than when searching for old photos and other dusty mementos or stumbling upon ghosts and similar malicious supernatural forces in horror films. However, as a unique type of ladder that often makes little use of space in the home, disappearing attic stairways need to be designed and installed carefully.
Therefore, due to their specific structure and purpose, disappearing attic stairways are specified in their own American National Standard, ANSI-ASC A14.9-2019: Safety Requirements For Disappearing Attic Stairways. This document—much like the American National Standards for portable wood ladders (A14.1), metal ladders (A14.2), and stepstools (A14.11)—covers safety guidelines for a specific ladder type and derives from the original American National Standard Safety Code for Construction, Care and Use of Ladders, A14 from 1923.
Much like these other standards, ANSI-ASC A14.9-2019 is meant to provide safety for life, limb, and property. Specifically, it prescribes rules regarding the safe design, construction, testing, care, installation, and use of permanently installed disappearing attic stairways of an assortment of types meant to be used for access to upper levels, such as attics. Furthermore, it applies to household units with duty ratings of 250, 300, and 350 lbs., as well as commercial units rated 500 lbs.
ANSI-ASC A14.9-2019 is applicable to two materials for disappearing attic stairways: metal and wood. For wood construction, the standard outlines guidance for the frame, side rail and step grading, and the attachment of the steps.
In addition, ANSI-ASC A14.9-2019 also outlines general tests for rails, top support, step bending, lateral rigidity, and labeling.
ANSI-ASC A14.9-2019: Safety Requirements For Disappearing Attic Stairways is available on the ANSI Webstore.