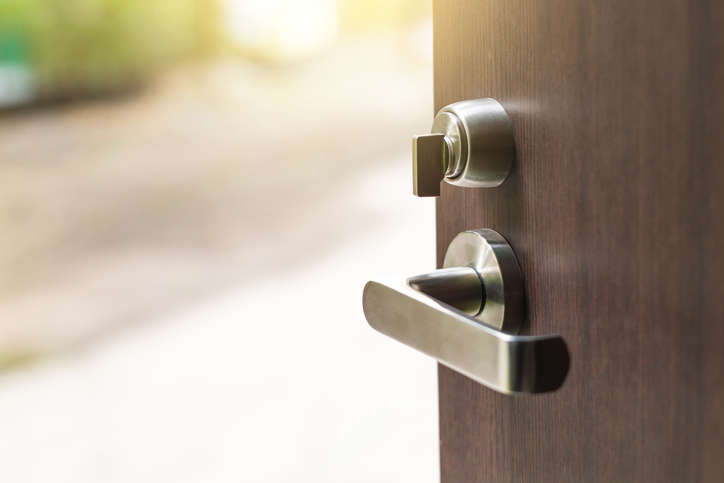 When used and created correctly, locks are key to providing one with a sense of security. Locks keep valuables and humans safe from instances of burglary and theft. Therefore, it is important that locks go through a rigorous assessment of their features. Within the pages of ANSI/BHMA A156.12-2018: Interconnected Locks, guidelines are offered for the testing of interconnected locks. This information helps to assure that interconnected locks are better equipped to successfully do their job.
According to ANSI/BHMA A156.12-2018, an interconnected lock is "a mechanically interconnected locking mechanism having a separate latch bolt or dead locking latch bolt and dead bolt designed for installation in round bored openings in the edge and face of a door. A single operation retracts all bolts." ANSI/BHMA A156.12-2018 provides performance guidelines for interconnected locks. In addition, it has operational, cycle, strength security, material evaluation, and finish tests. All of these evaluations are vital to making sure a lock is suitably ready for use.
It is important to note, as ANSI/BHMA A156.12-2018 does, that locks have certain grade qualifications. Manufactures should specify the grades of the locks. In order to meet the guidelines of the standard, locks should meet all the tests for their specific grade listings. For example, Grade 1 locks should meet the conditions of the Grade 1 assessments (this is true about Grade 2 locks and Grade 3 locks as well).
Interconnected locks are used in many places. The locks can be found securing valuables in hotels, assisted living facilities, and apartment buildings. The reason? These security devices can be simple without sacrificing safety. The user-friendly locks act as the first line of defense against unanticipated dangers. With this in mind, it is important to note that no lock is indestructible. Even the best locks can be eluded. Locks should not be a considered a substitute for caution and vigilance.
ANSI/BHMA A156.12-2018: Interconnected Locks is available on the ANSI Webstore.