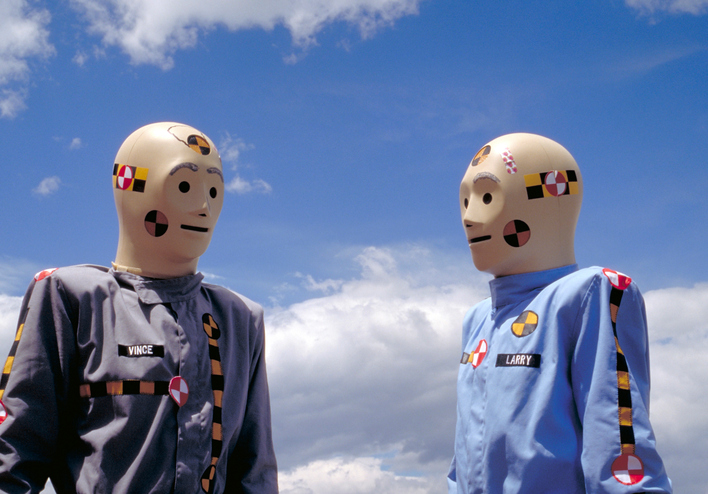 Don't let the name fool you. Test dummies, as anthropomorphic testing devices, are designed to suffer blunt force trauma, but they do so to acquire information necessary for understanding the severity of the forces that a body can be subjected to in the event of a crash. Many are equipped with an assemblage of sensors for detecting the intensity of various forces. Since 1960, it is estimated that crash test dummies used for automobile testing have saved more than 300,000 lives.
These accurate simulations, however, come at a cost, quite literally. Crash test dummies, depending on their added embellishments, can cost hundreds of thousands of dollars. General Motors has used crash test dummies that, due to their ability to work at hyper speed and ability to record and transmit data 10,000 times in a single second, come with a price tag of $500,000.
For the automotive industry, these test dummies are appropriate and practical. However, test dummies apply to other industries in which they sizable costs can hinder their practicality. Wheelchair tests, for example, measure load mass, appropriate mass distribution of a human occupant, and potential damage to the wheelchair. Since wheelchairs and scooters are purposed with providing mobility, it is crucial that they are adequately tested with dependable simulated conditions.
To help adapt test dummies for wheelchair testing, ISO 7176-11 was developed and first published back in 1992. This international standard initially specified test dummies under the needs of wheelchair testing, ultimately covering test dummies for wheelchairs and scooters that were intended to be durable and inexpensive to manufacture.
Over time, updates were made to the ISO 7176-11 standard to help provide repeatable and reliable testing results for wheelchairs. Today, ISO 7176-11:2012 – Wheelchairs – Part 11: Test dummies provides the masses of the segments that provide the test dummies, the locations of pivots that connect the segments, and a formula for the location of the overall center of mass of test dummies. The specified location for the center of mass is about the same as that of a human being of the corresponding mass when seated in a wheelchair, and also, for masses up to 100 kg, when in a standing position in a stand-up wheelchair.
Overall, ISO 7176-11:2012 specifies guidelines for test dummies at any mass greater than or equal to 25 kg. It does not, however, attempt to represent the mass distribution of a person with limb atrophy or amputation.
There is another standard for test dummies for wheelchairs. An American National Standard, ANSI/RESNA WC-1:2019, Section 11: Test Dummies was developed based on a working draft of ISO 7176-11. As such, it is its own standard document, and it is not an amended version of an ISO document, as we have seen in similar circumstances with other American National Standards.
ANSI/RESNA WC-1:2019 S11 provides specifications for a 25 kg test dummy and formulas intended for setting up a test dummy of any mass that is greater than or equal 50 kg. It also features tables of mass and locations of center of mass derived from formulas corresponding to nominal test dummy masses of 50 kg, 75 kg, 100 kg, 125 kg, 150 kg, 175 kg, 200 kg, 250 kg, and 300 kg. It also intends to guide the construction of a test dummy that will produce comparable results for stability, performance, and durability testing of manual and powered wheelchairs.
As you can see, from the goals set out by the ANSI/RESNA WC-1:2019 S11 American National Standard, it is a distinct document from the ISO 7176-11:2012 international standard. Therefore, as noted in ANSI/RESNA WC-1:2019 S11: "If ISO completes the development of a new 7176-11 standard, this section of RESNA WC-1 shall supercede the ISO version." This has, of course, happened with the publication of ISO 7176-11:2012, so compliant users of ANSI/RESNA WC-1:2019 S11 should continue to follow the RESNA standard's guidelines.
ISO 7176-11:2012 – Wheelchairs – Part 11: Test dummies and ANSI/RESNA WC-1:2019, Section 11: Test Dummies are available on the ANSI Webstore.