The 2018 Winter Olympic Games in PyeongChang, South Korea take place February 8-25, 2018. The current event follows the four-year cycle that commenced in 1924, with history in Ancient Greece. This global convergence squares off some of the world's best athletes in winter sports.
Of course, like other athletic institutions, the Olympics utilize their own standards and practices for competitions and qualifications relevant to the players and the games. However, voluntary consensus standards do play an interesting, albeit indirect, role in the Winter Olympics.
International and American National Standards offer specifications, background information, tests, and guidelines for manufacturers to follow when designing and fabricating the equipment used by individuals practicing winter sports. Conformance to these guidelines gives production companies the ability to assure the safety of the athletes and reliability of the equipment.
Therefore, voluntary consensus standards help to foster a safe environment for many of the professional athletes competing in the Winter Olympics to expand their skills and thrive.
For example:
Skiing and Snowboarding Standards
Almost all skiers and snowboarders need to ride ski lifts, as they rarely can reach the slope apex otherwise. However, these passenger ropeways need to be reliable and devoid of hazards. Developed by the National Ski Areas Association (NSAA), ANSI B77.1-2022: Passenger Ropeways – Aerial Tramways, Aerial Lifts, Surface Lifts, Tows and Conveyors – Safety Standard does just this, detailing safety guidelines for the design, manufacture, construction, operation, and maintenance of passenger ropeways like chairlifts and gondolas. It can be challenging to imagine numerous ski resorts functioning as well as they do without these interests in mind.
A skier's or snowboarder's equipment is also subject to standardization. As the mountain-based winter sports are conducted in tandem with the season's aggressive climatic forces, participants generally wear goggles to safeguard their eyes. An ASTM International standard, ASTM F659-10: Standard Specification for Ski and Snowboard Goggles, addresses the testing procedures for UV stability, performance, and visibility.
International standards also address the specifications and testing guidelines for numerous ski and snowboard components of various types. These ultimately function to provide sufficient equipment for the sports to develop and flourish. These international standards touch upon testing for alpine ski bindings, testing for Telemark ski bindings, touring ski bindings, testing for alpine ski boots, release valves for alpine ski bindings, testing for cross country skis, elastic properties of cross country skis, snowboard boot and bindings, snowboarding terminology, and snowboard testing.
These documents support the recreational practice of numerous sports, the following of which are part of the Winter Olympics: alpine skiing, cross country skiing, freestyle skiing, Nordic combined, ski jumping, and snowboarding.
Interestingly, snowboarding wasn't added to the Olympic Winter Games until 1998, around the time when the sport was becoming more widely accepted, and some standard documents had been published. Today, Olympic snowboarding consists of the events giant parallel slalom, half-pipe, parallel slalom, slopestyle, and snowboard cross.
Ice Skating Standards
Ice skating is a part of several Winter Olympic sports, including figure skating, short track speed skating, and speed skating. Each of these consist of numerous events.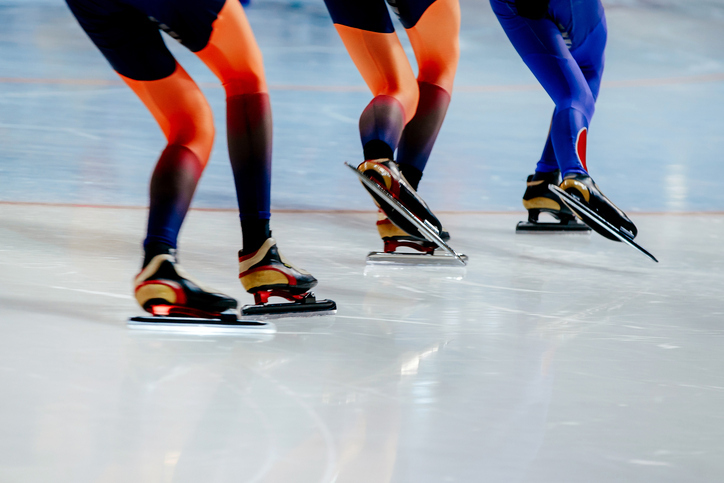 For short track speed ice skating, ASTM F1849-18: Standard Specification for Helmets Used in Short Track Speed Ice Skating details performance guidelines for helmets used by the athletes.
Ice Hockey Standards
However, ASTM F1849-18 is explicitly not applicable to ice hockey, as the winter (and Olympic) sport consists of alternative safety concerns. Instead, the performance guidelines and test methods for helmets marketed, sold, and intended for ice hockey are covered by Canadian standard CSA Z262.1-15 (R2019): Ice hockey helmets.
In addition, CSA Z262.2-15 (R2019): Face protectors for use in ice hockey serves as a companion document for the ice hockey helmets standard, detailing performance guidelines and test methods for face protectors to be used by ice hockey players.
Preventing injury in ice hockey is crucial, as the winter sport is often associated with violence. In fact, collision between players is the most common mechanism of moderate to severe injury in ice hockey. This places an importance on helmets, facemasks, and other protective gear to mitigate the slew of injury types common to the sport.
Additional guidance for ice hockey protective equipment can be found in the ISO 10256 series of standards.