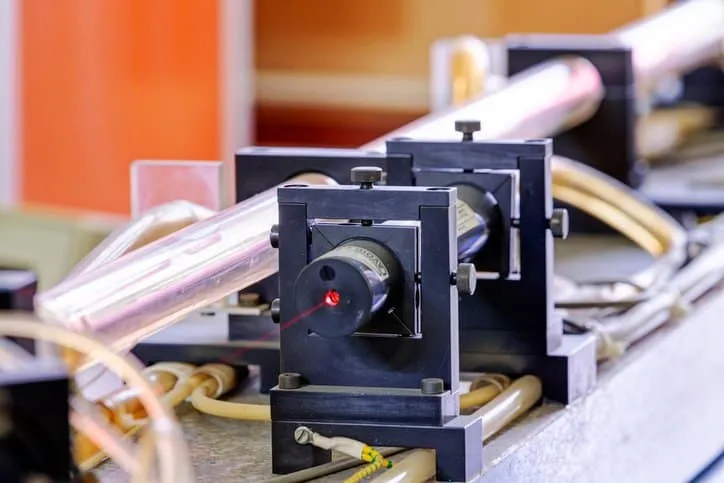 Any process conducted in the optics industry is subject to meticulous scrutiny, as the very purpose of utilizing optical elements in manufacturing is for its enhancement. Of course, for this to be successful, the optical instruments themselves must remain in suitable shape. An American National Standard, ANSI/OEOSC OP1.002-2017: Optics and Electro-Optical Instruments – Optical Elements and Assemblies – Surface Imperfections, offers guidance in meeting this need.
ANSI/OEOSC OP1.002-2017 sets forth uniform practices for stating and interpreting tolerances, as well as guidance for conducting inspections, of transmissive and reflective optical elements and cemented components for scratch, dig, edge, coating, and optical cement imperfections. Furthermore, it includes default specifications for bubbles and inclusions.
For viewing scratches and digs, the ANSI/OEOSC OP1.002-2017 standard provides two entirely different systems. One is a numerical notation, which indicates the allowable visibility of scratches and digs under specific viewing conditions, and the other is an alphabetical notation indicating the allowable size of scratches and digs.
ANSI/OEOSC OP1.002-2017 strives to cover non-performance quality specifications for tolerance imperfections of optical components, and it addresses the means to address these "cosmetic" specifications through its comprehensive approach, detailing relevant information and guidance with the aid of visuals throughout the document.
ANSI/OEOSC OP1.002-2017 is the third edition of the standard for surface imperfections of optical elements, and a major intention with this publication is to correct a widespread persistent misunderstanding about the meaning of the grade numbers used to classify a scratch or a dig's visibility to the human eye. It does, however, retain the Visibility Tolerancing System and Dimensional Tolerancing System of the second edition.
ANSI/OEOSC OP1.002-2017 was developed and published by the Optics and Electro-Optics Standards Council (OEOSC), a nonprofit organization that manages the development of standards in the Accredited Standards Committee for Optics (ASC OP). OEOSC is also the administrator of the American Technical Advisory Group (TAG) to the ISO Technical Committee on Optics and Phonotics (ISO/TC172).
Please note that much of the information gathered in this standard document is modeled on now withdrawn or canceled military specifications, which once served as de facto standards in their field for the majority of the 20th Century, prior to the creation of OEOSC in 1996. For example, the numerical notation in ANSI/OEOSC OP1.002-2017 is modeled on MIL-PRF-13830B and the alphabetical notation is modeled on MIL-C-48497A and MIL-F-48616.
ANSI/OEOSC OP1.002-2017: Optics and Electro-Optical Instruments – Optical Elements and Assemblies – Surface Imperfections is available on the ANSI Webstore.