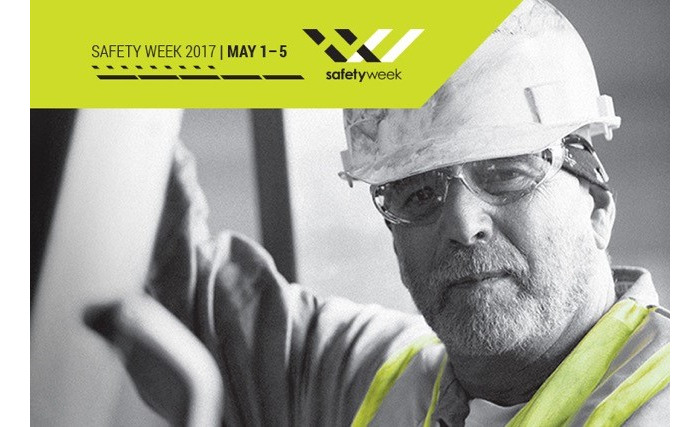 Every day, workers walk onto construction sites with one goal in mind – get the job done safely. They take great pride in the role they play shaping the communities in which they live, work and play. But even more than that, they feel an unwavering responsibility to one another and their families and friends at home. It's what drives them in every decision they make and why they never back down from doing what's right, and doing what's safe. They are taking safety in our own hands.
This is why we are celebrating safety by holding Safety Week across the U.S. and Canada. More than 60 construction firms and partner organizations have teamed up to hold events and training sessions. During these events, construction workers are tracing their hands on commitment boards to offer a visual reminder of their pledge to keep safety at the center of their daily work. Safety should be on every worker's mind, from the time they lace up their boots in the morning to when they hang up their hardhat at the day's end.
This week isn't complete without a virtual tip of our hardhats to ANSI. Safety and standards go hand in hand, and ANSI has long history of supporting safety. ANSI developed the first American Safety Code and partnered with OSHA to develop formal requirements for jobsite safety. Many of the protections that are commonplace today can be traced back to the early days of ANSI. From standards on fall protection systems to guidelines for gloves, ANSI's work is integral to making construction work safer. Below are some tips being shared during Safety Week, many of which tie into the work ANSI has done:
Preventing hand injury: The most common tool on any jobsite is the most injury-prone — the human hand. Wearing proper gloves can prevent many of these injuries. Always reach for the gloves designed to offer protection against the specific hazards of the job being performed. Types of gloves range from common work gloves to highly specialized gloves used in specific industries.
Analyze the hazards: Survey the work area and identify hazards prior to starting a new task. Discuss with your team and gather their perspective and suggestions. Eliminate hazards when possible or implement a method to avoid them.
Incident response: Report all incidents, no matter how small. We can treat injuries and take care of our teams better when we know when things didn't go as planned. Understanding what went wrong helps us reduce the likelihood of someone else getting injured doing the same thing.
Teamwork: Safety is a team effort, and successfully building a total safety culture involves everyone. Focus on communicating movements, hand placement and task goals before handling the load.
Construction safety is truly a nationwide concern, especially when you consider the nearly 1 million workers in the industry, plus an almost-equal number of trade workers, and the families who count on these men and women. This is the reason companies who support Safety Week take our commitment to safety personally. We appreciate ANSI's long tradition of supporting worker safety.
Contributing Author: Craig Atkinson, Chairman, 2017 Safety Week Communications Committee
Craig Atkinson is the chairman of the 2017 Safety Week Communications Committee. For more information about Safety Week, visit www.constructionsafetyweek.com.